Latest OCAU News
Wednesday Afternoon Reviews (0 Comments) (link)
Wednesday, 20-September-2017 14:27:01 (GMT +10) - by Agg


Motherboard & CPU:
AMD X399 TR4 Threadripper Motherboard Buyer's Guide on Tweaktown.
AMD A12-9800 Review: Infecting The AM4 Platform on TechSpot.
GIGABYTE AX370 Gaming K7 AM4 Motherboard on HardOCP.

Power Supply:
Seasonic PRIME 650 Platinum on HardOCP.
be quiet! Dark Power Pro 11 850W on HardOCP.

Audio Visual:
HyperX Cloud Revolver S on TechPowerUp.
SilverStone Ensemble EBA02 Headphone Holder on APHNetworks.

Cases:
Riotoro Prism CR1280 Full Tower RGB on Guru3D.
Thermaltake View 28 RGB Riing Edition on Vortez.

Misc:
The $12 RGB Strip For Your Monitor on ThinkComputers.
PUBG CPU Core Benchmarks Ė How Many Cores Do You Need on LegitReviews.
Samsung Galaxy Note 8 on HotHardware.
8K benched: RX Vega 64 vs. GTX 1080 Ti vs. TITAN Xp SLI on Tweaktown.
ROCCAT Isku+ Force FX Gaming Keyboard on Modders-Inc.




Tuesday Aaaarrrrrvo News (2 Comments) (link)
Tuesday, 19-September-2017 15:12:05 (GMT +10) - by Agg


Avast, mateys! I've not done a piratey news post since 2013, but those mangy curs Straylight and vellanet reminded me that today be International Talk Like A Pirate Day, and now there even seems to be an Australian version, so open up your buccaneers and listen..

If you've downloaded CCleaner in the last month, beware the malware it was spreadin', lest it scuttle your PC: Now this is an ironic flub-up. Popular utility tool CCleaner (short for ĎCrap Cleanerí), which promises to clean up your system for enhanced performance, was hacked to distribute malware directly to its users, Cisco Talos reports.

The Dread Pirate Banshee sent word that it's not all been plain sailing for SpaceX, with a blooper reel showin' their various mishaps. Thar she blows!

If the booty you're chasing is a Ryzen CPU in an ITX case, LanOC have a roundup for ye: Well even months after the Ryzen launch ITX boards were basically not available, but that is all starting to change with boards getting in stock from Gigabyte, Asrock, and Biostar. Well to celebrate that I decided to bring together a collection of at least most (Iím sure someone will contact me asking for X brand) of the ITX sized coolers that currently have AM4 support. A few of the coolers I got in are pushing the limits of ITX. But today Iím going to check each of them out, make sure they fit an AM4 ITX board (and ram), and test each cooler for noise and temperatures using Ryzen CPUs from the R7, R5, and R3 platforms. Hopefully, we will get a better idea of what fits, what doesnít, what looks amazing, what is quiet, and what will work with each level of performance.

Phoronix cast a beady eye over how EPYC compares with its Opteron ancestors. By now you have likely seen our initial AMD EPYC 7601 Linux benchmarks. If you haven't, check them out, EPYC does really deliver on being competitive with current Intel hardware in the highly threaded space. If you have been curious to see some power numbers on EPYC, here they are from the Tyan Transport SX TN70A-B8026 2U server. Making things more interesting are some comparison benchmarks showing how the AMD EPYC performance compares to AMD Opteron processors from about ten years ago.

Meanwhile, those land-lubbers at Techspot have compared Core i7 vs. Ryzen 5 with Vega 64 & GTX 1080, yarrr. By using the Core i7-7700K and Ryzen 5 1600, each with the Vega 64 and GTX 1080 at 1080p and 1440p we have some very interesting results to go over. Further, we suspect these are typical hardware combinations many are considering for building a new high-end rig when gaming is a big factor.

Man the poop deck! Another sea battle is underway at BabelTech, with the RX Vega 56 vs. GTX 1070 FE facing off in an overclocking showdown. Previously, we found that the stock-clocked $399 reference version of the RX Vega 56 is about 8-9% faster than the $399 stock-clocked reference GTX 1070 FE using 28 PC games. This time, we will test 20 PC games, and overclock the GTX 1070 FE and the RX Vega 56 each as far as they will go to see where they stand in relation to each other fully overclocked.

It be quite a day for duellin', with the ROG Zenith Extreme vs ASRock X399 Taichi on FunkyKit. Itís an epic battle between two of the most awesome X399 motherboards on the market. the Asus ROG Zenith Extreme and the ASRock X399 Taichi. We put these two motherboards to the test to find out which one is the real winner.

The Verge make the interesting point that we expect a PC to last for years, but accept a phone costing the same amount to last much less long. I usually spend about $1,300 on a new computer, and I usually expect it to stay in good shape for about four years ó if not more. So if Iím spending over $1,000 on an iPhone, how long should I expect to use it for? Err, yarr?

That wily old sea-dog elvis has announced that the latest "Retro Let's Play" is Super Mario 64, from way back in 1996. Currently ranked #1 in HG101's Top 47,858 Games of All Time (scroll down to their Episode 15 podcast if you want to hear their detailed discussion), it's hard to find a gamer (or even non-gamer) who hasn't heard of Mario. First appearing as "Jumpman" in the 1981 arcade classic "Donkey Kong", Mario has served as Nintendo's major mascot for almost their entire console gaming history. Super Mario Brothers, which first appeared on the NES in 1985, is often credited as a final nail in the coffin for the video game crash that started in 1983, and resulted in the rise of home video game systems booming in popularity.

Time for me to return to the briny depths, but first, here's our ever-popular TLAPD mascot: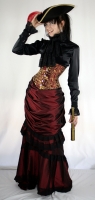 Yarrr!






Tuesday Morning Reviews (2 Comments) (link)
Tuesday, 19-September-2017 09:34:14 (GMT +10) - by Agg


Motherboard & CPU:
ECS Z270H4-I LGA1151 Motherboard on MadShrimps.
Asus' ROG Strix Z270E Gaming motherboard on TechReport.
GIGABYTE Z270X-Gaming 8 Motherboard on PCPerspective.
ASRock X399 Professional Gaming Motherboard on Tweaktown.
Initial Benchmarks Of The AMD EPYC 7601 On Ubuntu Linux on Phoronix.

Audio Visual:
Reolink Argus Wireless Battery-Powered Security Camera on OCClub.
Kanto YU4 Desktop Computer Speakers on APHNetworks.

Video Cards:
AMD Radeon RX Vega 56 on TechARP.
ASUS ROG Poseidon GTX 1080 Ti 11G on Modders-Inc.

Misc:
SteelSeries Apex M750 keyboard on Vortez.
Kingston KC1000 960GB PCIe M.2 Solid State Drive on ThinkComputers.
Keeping Intel Core X-Series CPUs Cool With Noctua Air Cooling on Phoronix.




Sunday Morning Reviews (0 Comments) (link)
Sunday, 17-September-2017 09:57:38 (GMT +10) - by booj


Motherboards & CPUs:
ASUS TUF X299 Mark I on Guru3D.
Gigabyte Aorus GA-Z270X-Gaming 8 on The Tech Report.
ASRock X399 Taichi on Funky Kit.
MSI X399 Gaming Carbon Pro AC on Hexus.

Storage:
Crucial BX300 480 GB on techPowerUp.
Buffalo TeraStation TS5410 8TB 10Gbe NAS on TweakTown.
Transcend StoreJet 25C3N 1TB Portable HDD on TweakTown.
Corsair Neutron NX500 NVMe PCIe Gen.3 x4 Add-In Card SSD on NikKTech.
Silicon Power Armor A85 1TB External Hard Drive on Hexus.

Mobile:
ASUS ZenFone 4 Selfie Pro (ZD552KL) on TechARP.
MSI GS63VR Gaming Notebook on PC Perspective.

Misc:
Reeven Naia 240 AIO Cooler on Modders-Inc.
Corsair HX1000 Platinum 2017 on ocaholic.
CHERRY B.UNLIMITED 3.0 Keyboard on Vortez.
GeIL EVO X AMD Edition DDR4 on Vortez.
AOC AGON AG271QG 144-165 Hz on techPowerUp.
AVA Direct Avant Mid-Size on LanOC Reviews,
Linksys Velop Mesh Wireless Router on APH Networks.



Want more news? View previous 7 days, 14 days, 30 days or monthly archives.
All original content copyright James Rolfe.
All rights reserved. No reproduction allowed without written permission.
Interested in advertising on OCAU? Contact us for info.
Recent Content

Getting Started with Arduino

ADATA Ultimate SU800 256GB SSD

FSP Hydro 700W and Hydro G 850W PSUs

Crucial BX200 SSD

ADATA SP550 240GB SSD

Lexar Jumpdrive M20i Flash Drive

Lexar Jumpdrive M20c Flash Drive