News Archives
Our news archive search is now powered by Google. You can search the main site or the guest-viewable forums. To search the entire forums, log in and use the forum search engine.

Search the main OCAU site with Google: Search OCAU Forums with Google:

View News : Last 7 Days, Last 14 Days, Last 30 Days.

View Monthly Archives.



Tuesday Midday (2 Comments) (link)
Tuesday, 28-February-2017 12:52:47 (GMT +10) - by Agg


SpaceX have announced plans to send two tourists around the Moon next year. In a call with reporters, Musk announced that SpaceX had been approached by two private individuals to fly on a Dragon 2 spacecraft, launched on a Falcon Heavy rocket, to fly around the moon and back in the fourth quarter of 2018.

Closer to home, Qantas are testing their in-flight internet service. The special charter flight came ahead of the Boeing 737 starting public trials in the coming weeks, and the results were promising, with Qantas reporting typical download speeds between 7Mbps and 12Mbps to each connected device. And with the plane packed tip to tail with volunteer Qantas staff, each using at least one device and many juggling two or more bits of kit ranging from smartphones to laptops, that meant 100% connectivity for over 200 devices.

Even closer to home, although not mine because I live in a rural area, NBN Co have a new household search tool. From this morning, all Australians should be able to check the details of when they will be able to order a National Broadband Network service for their household, according to NBN. NBN this morning released an update to its website, which will tell households what technology will be used to connect their home as well as when it is expected to be connected — with the website offering a window of between six months and one month depending on the status of design and construction for a particular area. Planned*. :/ Update: direct link to the search is here, thanks kombiman.

Telstra are working on a national Internet of Things network. The announcement comes as part of the telco's "Network of the Future" program announced overnight at the Mobile World Conference in Barcelona. Telstra partnered with long-time collaborator Ericsson to deploy network software, which will enable Cat-M1 LTE networks using Ericsson's Massive IoT software, to its radio and core networks. What could possibly go wrong?

TechARP have info on the range of AMD Ryzen 7 motherboards available ahead of the retail launch in a few days. The new AMD Ryzen 7 processors will hit the stores on March 2, 2017, with pre-orders open on the Ryzen 7 1800X, the Ryzen 7 1700X and the Ryzen 7 1700 right now. But what about the motherboards? Let's find out what AMD's motherboard partners have in store to pair with the AMD Ryzen 7 processors!




Sunday Afternoon Reviews (0 Comments) (link)
Sunday, 26-February-2017 13:57:57 (GMT +10) - by Agg


Motherboard & CPU:
ASUS ROG STRIX Z270G Gaming mATX Motherboard on LegitReviews.
ASUS ROG Maximus IX Formula on OCClub.
Bitspower Summit EF (Acrylic Top) CPU Water Block on FunkyKit.

Video Cards:
Palit GeForce GTX 1050 Ti KalmX on Guru3D.
Radeon vs. NVIDIA Performance For HITMAN On Linux With 17 GPUs on Phoronix.

Input Etc:
AZIO ARMATO keyboard on Vortez.
Azio MK Retro keyboard on Vortez.
Sound BlasterX Vanguard KO8 Mechanical Keyboard on Tweaktown.
Genius Scorpion K20 Keyboard on Modders-Inc.

Cases:
Enermax SteelWing Case on Modders-Inc.
Phanteks Eclipse P400S Tempered Glass Case on BenchmarkReviews.

Storage:
Corsair Force Series MP500 on Vortez.
Asustor AS3202T Multifunctional 4K Quad-Core NAS on Bjorn3D.
SSHD vs HDD – 2TB Seagate FireCuda SSHD vs. 2TB Toshiba HDD on BanelTechReviews.

Cooling:
CRYORIG A80 Closed Loop Water Cooler on APHNetworks.
Scythe Kabuto 3 CPU cooler on TechPowerUp.

Portable & Prebuilt:
LG V20 smartphone on LanOC.
Shuttle XPC Slim DX30 Barebone on MadShrimps.
HP Spectre x360 notebook on TechSpot.
Honor 6X smartphone on HotHardware.

Audio Visual:
ASUS ROG SWIFT PG258Q gaming monitor on Tweaktown.
SteelSeries Arctis 7 Wireless Gaming Headset on FunkyKit.

Networking:
Tenda AC9 AC1200 Dual-Band Wireless Router on Tweaktown.
Tenda AC18 AC1900 Advanced Smart Dual-Band Gigabit WiFi Router on FunkyKit.

Misc:
ADATA A10050QC Power Bank on ThinkComputers.
G.Skill TridentZ RGB DDR4 memory on Guru3D.
Galactic Civilizations III v2.0 game on OCClub.



Thanks to Axeman and Dan this week!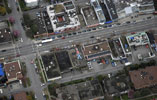 Friday Afternoon Reviews (3 Comments) (link)
Friday, 24-February-2017 14:53:22 (GMT +10) - by Agg


Motherboard & CPU:
GIGABYTE Z270X-UD5 Motherboard on Tweaktown.
GIGABYTE Z270X-Gaming 5 Motherboard on PCPerspective.
ASRock Fatal1ty Z270 Gaming i7 Motherboard on Tweaktown.
Aorus Z270X-Gaming 9 Motherboard on ThinkComputers.

Storage:
Patriot Hellfire 480GB PCIe 3.0 x 4 NVMe M.2 SSD on NikKTech.
Western Digital WD Red Pro 5 TB Hard Drive on HWSecrets.
StarTech Dual Slot USB-C SD Card Reader on Tweaktown.
TerraMaster F2-220 2-Bay NAS on TechPowerUp.
QNAP TBS-453A 4-Bay M.2 SSD NAS on Modders-Inc.

Input Etc:
Azio Armato Mechanical Gaming Keyboard on BenchmarkReviews.
AZIO Armato Backlit Mechanical Gaming Keyboard on LegitReviews.
Das Keyboard X40 Pro Gaming Mechanical Keyboard on NikKTech.



After months of speculation, we finally have some official details of AMD's Ryzen CPUs. They have launched three high-end models, all with 8 cores and 16 threads. We've been hoping AMD will bring the fight back to Intel and these early in-house results look promising. Independent review results are still not released to the public yet, but there's coverage of this launch on Tech Report, Tweaktown, HotHardware and ArsTechnica.

Discussion and a huge amount of info in this thread and this thread in our AMD Hardware forum.




Tuesday Night Reviews (0 Comments) (link)
Tuesday, 21-February-2017 23:10:29 (GMT +10) - by Agg


Motherboard & CPU:
ASUS ROG Maximus IX Apex (Intel Z270) on Tweaktown.
Pentium G4500 CPU on HWSecrets.
Windows 10 vs. Ubuntu Linux OpenGL Benchmarks With A Core i7 7700K on Phoronix.

Video Cards:
MSI GeForce GTX 1060 Armor OC 6 GB on TechPowerUp.
NVIDIA Quadro P4000 And P2000 Workstation GPUs on HotHardware.
Radeon Windows 10 vs. Linux RadeonSI/RADV Gaming Performance on Phoronix.

Input Etc:
Corsair K95 RGB Platinum Gaming Keyboard on FunkyKit.
Tesoro Gram Spectrum RGB Keyboard on TechPowerUp.
Corsair K95 RGB Platinum on OCAholic.
Cherry MX Board 6.0 Keyboard on ThinkComputers.
Logitech G213 Prodigy RGB Gaming Keyboard on PCPerspective.

Storage:
SilverStone Drive Storage DS223 RAID Enclosure on Tweaktown.
Seagate IronWolf Pro 10TB NAS HDD on eTeknix.
Crucial MX300 2TB SSD on InsideOC.
ADATA SU800 256GB SSD on LanOC.
Kingston MobileLite G4 USB 3.0 Card Reader & UHS-I U3 microSDXC on ModSynergy.

Audio Visual:
Creative Sound BlasterX Katana Multi-channel Gaming Soundbar on HWAsylum.
Cooler Master MasterPulse Pro RGB Headset on Guru3D.
Creative Sound BlasterX Kratos S3 2.1 Speaker System on MadShrimps.

Misc:
GEIL Super Luce DDR4-3000 16GB Memory Kit on FunkyKit.
CyberPowerPC GUA2400BST AMD VR Gaming PC on Techgage.




Monday Afternoon (5 Comments) (link)
Monday, 20-February-2017 17:38:58 (GMT +10) - by Agg


The NSW Police are expressing concerns about a GTA Mod that skins vehicles and people as NSW Police. In one of the more bizarre things to happen this week, NSW Police Minister Troy Grant has gone on national television to complain about a seven year old mod for Grand Theft Auto 4. The minister, who starred in the Channel Seven evening news last night, complained that a mod (written by "underground computer geeks", according to journalist Mike Duffy) that adds NSW Police vehicles and officers into the game was "peverse". The modders explained why they made it, thanks Axeman.

Village Roadshow continue their push to get piracy sites banned. Site blocking is the first stage of a five point program, which Village outlined this morning. The company will work on "Google take-downs and site ranking demotions" and a "major PR campaign", it said. "Availability of legal product" and "suing infringers" would follow. Surely "availability of legal content" should be #1 not #4? #5 seems to also be on the way, with suing individuals apparently coming soon. Discussion continues here.

TechARP report from the Samsung Forum 2017. Yesterday, Samsung kicked off Samsung Forum 2017 in sunny Singapore. We were amongst the lucky few to receive an exclusive invitation to the Samsung Forum 2017. Join us as we reveal what Samsung has in store for consumer electronics in 2017!

Superfast internet from the NBN may not be quite so superfast after all. While a download speed of 20 Mbps is faster than the 15 Mbps he could get using ADSL, it is much less than 100 Mbps he is paying for. It is also not consistent.

HWSecrets have an interesting article about what Watson has been up to since winning Jeopardy. In 2011 IBM's supercomputer won a game of Jeopardy against two of Jeopardy's greatest champions. That brought the name IBM's Watson to the forefront of the computer world. That was, however, just the beginning. Watson's story is both fast-moving and unique.

Mark Zuckerberg posted a lengthy manifesto about Facebook and the global community. Today we are close to taking our next step. Our greatest opportunities are now global -- like spreading prosperity and freedom, promoting peace and understanding, lifting people out of poverty, and accelerating science. Our greatest challenges also need global responses -- like ending terrorism, fighting climate change, and preventing pandemics. Progress now requires humanity coming together not just as cities or nations, but also as a global community. People aren't quite sure what to make of it, but there's coverage on ArsTechnica, TheGuardian and TechCrunch. Discussion here.

This from DJ-Hippster: Just stumbled upon a new YouTuber who's doing some neat work creating some mini documentaries based on the history of some speed run times. Check out the videos on Super Mario Bros, Super Mario 64 – 120 Star and Super Mario World.



Cooling:
Raijintek TISIS Dual Tower CPU Cooler on Technoyard
Reeven Ouranos 140mm CPU Cooler on FunkyKit

Videocard:
MSI GeForce GTX 1060 Aero Mini ITX on Guru3D
AORUS GTX 1080 XTREME Edition on Vortez

Network:
Ubiquiti UniFi AP AC PRO Wi-Fi Access Point (UAP‑AC‑PRO) on Custom PC Review
Anonabox FAWKES Tor Router on OCC
The eero Home WiFi System on PC Perspective

Audio:
Creative Sound BlasterX Pro-Gaming Katana Desktop Soundbar on eTeknix
Logitech G533 Wireless Headset on LanOC
Genius SP-925BT Bluetooth Speaker om PC Perspective

Case:
SilverStone Redline RL06 PRO ATX Mid-Tower on NikKTech
Aerocool P7-C1 on techPowerUp

CPU:
Intel Core i3-7350K Kaby Lake Processor on Think Computers
Rockit Cool Rockit 88 Processor Delidding Tool on Hardware Asylum

Portable:
Venom Blackbook Zero 14 Laptop on PC World
Huawei Mate 9 on PC Perspective
MSI GE62 7RD Apache Laptop on Techspot

Input etc:
Sandberg PowerBank 18200 on NikKTech
GAMDIAS ZEUS P1 RGB Optical Gaming Mouse on TweakTown
AVerMedia Live Gamer Portable 2 Capture Device on TweakTown
AZIO MGK L80 RGB Mechanical Gaming Keyboard on Techgage

Games:
Halo Wars 2 (XBO) on Gaming Nexus
For Honor (PC) on Techspot
Dynasty Warriors: Godseekers (PS4) on Gaming Nexus

Misc:
Western Digital Red WD80EFZX 8TB Hard Drive on APH Networks
Super Flower Platinum King 650W Power Supply on Tech Powerup
Supermicro C7Z270-CG Motherboard on TweakTown.
​Corsair Dominator Platinum DDR4-3000 RAM on PC World



Thanks to Axeman and Dean this week!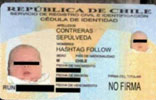 Thursday Morning (1 Comments) (link)
Thursday, 16-February-2017 01:52:12 (GMT +10) - by Agg


Tech Report look at the process (and outcome) of migrating from Sandy Bridge to Kaby Lake. After nearly six years and countless posts about how my i7-2600K was still good enough, I decided that I'd had enough of good enough when we published our Core i7-7700K review. It was time to upgrade my PC, and I recently completed my new build. I can hear the palms contacting faces already. "Fish, you idiot, Ryzen is almost here! You should have waited." That could be, but I won't be buffaloed into second-guessing my decision. As it happens, I'm quite pleased with the results and I'm pretty confident that Ryzen couldn't do any better.

Pokemon Go has been out of the headlines for a while, but it's back again, with the suggestion that trading and PvP (player vs player) combat are on the way. "It's going to be done soon," he says. "It is what it is. I'll take the massive wave of hysteria we enjoyed, and just deal with the fact that it's caused us to take a bit longer to get the rest of the features up. We're really happy to make our users happy." It seems some other new features are arriving this week. Discussion of Pokemon Go continues in this thread.

Seems a bit early for April Fools, but apparently Nokia are bringing back the 3310. The phone, originally released in 2000 and in many ways beginning the modern age of mobiles, will be sold as a way of getting lots of battery life in a nearly indestructible body. The new incarnation of the old 3310 will be sold for just €59, and so likely be pitched as a reliable second phone to people who fondly remember it the first time around.

Back to the future, with Intel announcing a 24-core CPU for $9k USD. The flagship Intel Xeon E7-8894 v4 processor features the Broadwell-EX XCC (extreme core-count) die and has 24 cores with Hyper-Threading technology, 60 MB of L3 cache, 165 W TDP, a default frequency of 2.4 GHz and a turbo frequency of up to 3.4 GHz. Like other Broadwell-EX XCC CPUs, the new chip has quad-channel DDR3/DDR4 memory controller support and can manage up to ~3 TB of DRAM per socket (when used in conjunction with four Jordan Creek 2 scalable memory buffers). The CPUs are also equipped with 32 PCIe 3.0 lanes and three 9.6 GT/s QPI links for multi-socket environments.

AMD meanwhile have shared more Zen details in an interview. David was kind enough to spend an hour with us to talk about a recently-made-public report he wrote on Zen. It's definitely a discussion that dives into details most articles and stories on Zen don't broach, so be prepared to do some pausing and Googling phrases and technologies you may not be familiar with. Still, for any technology enthusiast that wants to get an expert's opinion on how Zen compares to Intel Skylake and how Ryzen might fare when its released this year, you won't want to miss it.

FunkyKit have been overclocking an i5-7600K to 4.9GHz. We recently reviewed the Gigabyte GA-Z270X Ultra Gaming motherboard, which we thought was a very good motherboard offering decent performance and tons of features. We used it to overclock the Intel Core i5-7600K (Kaby Lake) to see how far it could go.

Wired report on the efforts of coders to rescue climate data from being deleted by the US Government. About half the group immediately sets web crawlers on easily-copied government pages, sending their text to the Internet Archive, a digital library made up of hundreds of billions of snapshots of webpages. They tag more data-intensive projects—pages with lots of links, databases, and interactive graphics—for the other group. Called "baggers," these coders write custom scripts to scrape complicated data sets from the sprawling, patched-together federal websites.




Thursday Morning Reviews (0 Comments) (link)
Thursday, 16-February-2017 00:53:31 (GMT +10) - by Agg


Motherboard & CPU:
Intel Core i3-7350K "Kaby Lake" CPU on Tweaktown.
ASUS ROG Strix Z270I Gaming on OCAholic.
ECS Z170-Lightsaber Motherboard on PCPerspective.
Intel Core i3-7350K vs. Core i5-7400 on TechSpot.

Storage:
Crucial MX300 525GB SSD on NeoSeeker.
Synology FlashStation FS3017 24-Bay All-Flash NAS on Tweaktown.
WD Black 512GB M.2 PCIe NVMe SSD on LegitReviews.

Cases:
Cooler Master MasterCase Pro 6 on eTeknix.
SPC Aquarius M60W Pure Black on HWInsights.

Audio Visual:
Fnatic Gear Duel Modular Gaming Headset on MadShrimps.
AtomicX V201 Bluetooth Headset on FunkyKit.
Epiphan AV.io 4K capture device on Vortez.

Input Etc:
Cooler Master MasterKeys Pro L RGB on Vortez.
Genius Scorpion M8-610 Mouse on Modders-Inc.
Corsair K95 RGB Platinum Keyboard on BenchmarkReviews.
Razer Gigantus - Black Edition Mouse Pad Presentation on MadShrimps.

Video Cards:
Radeon Fury X vs. GeForce GTX 980 Ti: Are They Still Worth Buying? on TechSpot.
NVIDIA's Fastest Graphics Card Ever: A Look At The Quadro P6000 on Techgage.
HIS Radeon RX460 Slim-iCooler OC 2GB on FunkyKit.

Portable & Prebuilt:
Honor 6X Tablet preview on TechARP.
Dell XPS 13 2-In-1 Review: Portable And Flexible Living On The Infinity Edge on HotHardware.
Xiaomi Redmi Note 4 (helio X20 Model) on TechARP.

Software:
Sniper Elite 4: Performance Analysis on TechPowerUp.
Sniper Elite 4 PC graphics performance benchmark on Guru3D.

Misc:
GeIL Super Luce DDR4-3000 16GB Memory Kit on ThinkComputers.
Linksys Velop Mesh Wi-Fi Router on CustomPCReview.
Gigabyte Xtreme Gaming XTC700 CPU Cooler on eTeknix.




Getting Started with Arduino (11 Comments) (link)
Tuesday, 14-February-2017 17:18:06 (GMT +10) - by Agg


I've taken a dive into the world of Arduino. It's an inexpensive and open-source hardware and software platform for teaching electronics and device programming. It's also a lot of fun!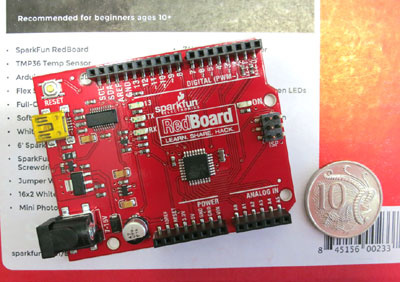 click for the article!
All original content copyright James Rolfe.
All rights reserved. No reproduction allowed without written permission.
Interested in advertising on OCAU? Contact us for info.
Recent Content

Getting Started with Arduino

ADATA Ultimate SU800 256GB SSD

FSP Hydro 700W and Hydro G 850W PSUs

Crucial BX200 SSD

ADATA SP550 240GB SSD

Lexar Jumpdrive M20i Flash Drive

Lexar Jumpdrive M20c Flash Drive