News Archives
Our news archive search is now powered by Google. You can search the main site or the guest-viewable forums. To search the entire forums, log in and use the forum search engine.

Search the main OCAU site with Google: Search OCAU Forums with Google:

View News : Last 7 Days, Last 14 Days, Last 30 Days.

View Monthly Archives.


Time for some news catchup. Firstly, OCLunatics report on a 5GHz Broadwell overclock using only an air-cooler. Is it me, or has 5GHz been pretty much the wall for years now? China is the first to get unreleased hardware first, and the Broadwell desktop CPUs are no exception. Not only but the first overclocking results are quite impressive. Broadwell can do 5GHz on air, and this on an ordinary 12cm tower cooler, imagine with water or LN2. This are the first results of 14nm CPUs with not 100% compatible motherboards, imagine after some time with better BIOS and support.

iiNet will apparently be providing pro bono legal advice to customers caught up in the Dallas Buyers Club case. The ISP says it will inform customers if their details are passed on to Dallas Buyers Club and Voltage and this will occur at the same time that those details are handed over. As for what happens next, iiNet is getting on the front foot to assist its customers. "If you do receive a letter you may want to get legal advice," the blog post read. "iiNet is working with a law firm that has offered to provide pro-bono services for any of our customers. More details will be provided when agreement is reached on that front."

Here's an interesting idea, something like crowdsourcing 3D Printing. If you have a printer you can list it on there, or if you need something printed you can find someone nearby. If you're into 3D printing, check out our Hobby Engineering forum.

Tony_L sent word that Candy Crush Saga will come free with Windows 10. Why not Minecraft, now that Microsoft own it? King's match-three puzzle game Candy Crush Saga will join the likes of Solitaire, Minesweeper and Hearts as a pre-installed title on future Windows 10 operating systems, according to an announcement today on Xbox Wire.

Meanwhile mpot spotted Windows 10 on a 12-inch MacBook. Here's the real kicker: it's fast. It's smooth. It renders at 60FPS unless you have a lot going on. It's unequivocally better than performance on OS X, further leading me to believe that Apple really needs to overhaul how animations are done. Even when I turn Transparency off in OS X, Mission Control isn't completely smooth. Here, even after some Aero Glass transparency has been added in, everything is smooth. It's remarkable, and it makes me believe in the 12-inch MacBook more than ever before.

Metadata scope creep seems to have already occurred, with the new "Border Force" now having access. The Coalition previously insisted that the bill would "strictly limit and indeed reduce" the number of enforcement agencies with the ability to access retained metadata. However, this week the Government quietly expanded access with the introduction of a completely new bill. The change has been slammed by critics as an example of the Government's power to slowly change the strength and scope of its enforced Data Retention scheme, quietly beefing up the powers of Government agencies to surveil Australian citizens.

HotHardware looked at GTA V PC Performance. Today, we're aiming to give you quick taste of what GTA V can play and look like with an over-the-top system config at super-tight 4K resolution. What does it take to run GTA V at 4K? We'll give you a view of that, as well as how it scales over multiple NVIDIA GeForce GTX 980 GPUs, in the pages ahead, along with some screen shots for just a bit of eye candy as well.

A site called Project Gus takes a look inside a cheap Chinese smartphone, thanks irvo44. This Huami H3 smartphone cost me $34US (210RMB) in January. It's sold with a 5 inch screen, Bluetooth, WiFi, 4G cell connectivity, Android 4.4 and an 8 core processor. I picked it up in the electronics capital of the world – Shenzhen, China. My hotel was a few doors down from the Mingtong Digital Communications Market, aka "the dodgy cell phone market".




Monday Morning Reviews (1 Comments) (link)
Sunday, 24-May-2015 15:18:36 (GMT +10) - by Agg


Cooling:
Corsair Hydro Series H80i GT CPU watercooler on Vortez.
be quiet! Pure Rock CPU Cooler on Tweaktown.

Portable & Prebuilt:
Intel Compute Stick - A Computer In The Palm Of Your Hands on TechARP.
MSI Cubi mini-PC on HWHeaven.

Audio Visual:
EMTEC Stay Earbuds Wireless on TechnologyX.
ROCCAT Kave XTD 5.1 Analog headphones on Vortez.

Input Etc:
Turtle Beach Impact 500 TKL Mechanical Gaming Keyboard on eTeknix.
SteelSeries Sensei Wireless Gaming Mouse on NikKTech.

Misc:
Corsair CS850M PSU on Guru3D.
The Witcher 3: Wild Hunt Benchmarked, Performance Review on TechSpot.
ASUS GeForce GTX 980 ROG Matrix Platinum video card on Tweaktown.
OCZ Vector 180 240GB Solid State Drive on APHNetworks.
GIGABYTE Champion Series X99-Gaming 5P Motherboard on PCPerspective.



Friday again! Slightly delayed by me doing the "that thing they cut off my arm turned out to not be skin cancer" dance. But get yourself checked!











































Friday Morning Reviews (0 Comments) (link)
Friday, 22-May-2015 01:00:54 (GMT +10) - by Agg


Motherboard & CPU:
Gigabyte's Z97-HD3 motherboard on Tech Report.

Portable & Prebuilt:
2015 Apple MacBook Pro SSD Performance Comparison on TechARP.
Asus ZenFone 2 Sneak Peek With Lollipop And Intel Atom Z3580 Inside on HotHardware.
ASUS Zenfone 2 on LegitReviews.
Gigabyte Brix S mini-PC on HWHeaven.

Input Etc:
Kingston HyperX FURY Pro Gaming Mousepad on ThinkComputers.
Logitech MX Master Wireless Mouse on LegionHW.
Zalman ZM-GM4 Knossos Gaming Mouse on BenchmarkReviews.

Storage:
SSD Charts 2015: 56 SSDs - Kingston HyperX Predator 480GB on OCAholic.
Samsung 850 EVO 500GB SATA III M.2 SSD on Tweaktown.
Seagate Archive HDD 8TB SATA III HDD on NikKTech.




AMD's High Bandwidth Memory (HBM) (0 Comments) (link)
Thursday, 21-May-2015 03:13:26 (GMT +10) - by Agg


AMD have unveiled some details of their High Bandwidth Memory technology. AMD has been teasing about its next-gen Radeon (R9 390X we assume) graphics cards and processors back in early May. It is without doubt that at least some of the upcoming graphics cards will be the first to feature high-bandwidth memory (HBM), let's call is the turbo-charged offspring to GDDR5 memory, used in today's graphics cards.

Coverage on Guru3D, Tech Report, PC Perspective, Tweaktown and Hot Hardware.

Discussion here in our Video Cards forum.




Thursday Afternoon Reviews (1 Comments) (link)
Thursday, 21-May-2015 03:06:35 (GMT +10) - by Agg


Cases:
Supermicro SuperChassis S5 Mid-Tower on PCPerspective.
Lian-Li PC-O6s on HWHeaven.

Input Etc:
CM Storm Mizar Gaming Mouse on TechPowerUp.
Sentey Lumenata Pro SP mouse on Bjorn3D.

Motherboard & CPU:
Gigabyte Z97X-UD3H-BK Motherboard on LegitReviews.
ECS Z97I-Drone LEET Gaming (LGA 1150) Motherboard on eTeknix.

Portable & Prebuilt:
Dell Precision M3800 Mobile Workstation on HotHardware.
Microsoft Lumia 640 Windows phone on TechSpot.

Storage:
Samsung SM951 M.2 NVME SSD Review (256GB) on TheSSDReview.
Buffalo MiniStation Extreme NFC Portable Hard Drive on ThinkComputers.
OCZ ARC 100 240GB SSD on MadShrimps.
Silicon Power Armor A60: Rugged, Portable, and Affordable on Bjorn3D.

Memory:
Kingston HyperX Fury DDR4-2666 32GB Quad-Channel Memory Kit on Tweaktown.
G.SKILL Ripjaws 4 3000MHz on Bjorn3D.

Software:
The Witcher 3 Graphics Performance on Guru3D.
The Witcher 3: Performance Analysis on TechPowerUp.

Misc:
EVGA SuperNOVA G2 1600W 80 PLUS Gold Power Supply on Tweaktown.
Nvidia Titan X video card on LanOC.
NZXT Kraken X61 watercooler on OCAholic.




Tt CaseMOD Invitational Contest (0 Comments) (link)
Tuesday, 19-May-2015 15:05:57 (GMT +10) - by Agg


STUdog has completed his entry in the Thermaltake CaseMOD Invitational, representing Australia in the contest. Check out the build log in the forums.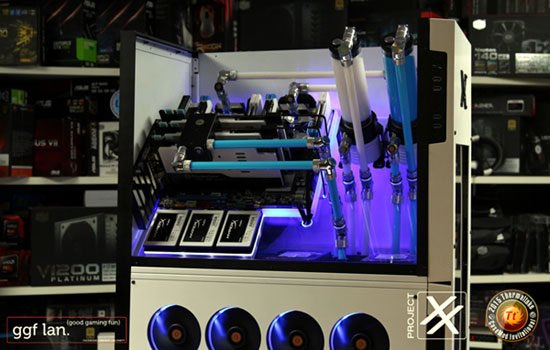 click for the worklog!



It turns out there are prizes to be won just for voting for your favourite entries. So, check out all the entrants (and then vote for STUdog ;) ) by visiting the contest thread.




Tuesday Night Reviews (0 Comments) (link)
Tuesday, 19-May-2015 13:44:31 (GMT +10) - by Agg


Portable & Prebuilt:
MSI Cubi mini-PC on OCAholic.
HP Stream 7 tablet on PCReview.
LG G4 smartphone on HotHardware.
ASUS Transformer Book T300 Chi convertible on TechReport.

Memory:
G.Skill Ripjaws 4 16GB 2666MHz Overclocking Ambrosia on Bjorn3D.
Crucial Ballistix Sport DDR4-2400 16GB Quad-Channel Memory Kit on Tweaktown.

Storage:
Silicon Power S80 480GB on Bjorn3D.
Kingston HyperX Savage 240 GB on TechPowerUp.
Intel 750 Series PCIe SSD on Vortez.

Input Etc:
Tesoro Lobera Spectrum keyboard on Modders-Inc.
Ozone Argon Advanced Pro Laser Gaming Mouse on eTeknix.

Cases:
Fractal Design Core 2500 on ThinkComputers.
Zalman Z11 Neo Mid Tower on LegitReviews.
In Win 707 Full-Tower on Techgage.
Thermaltake Versa H15 on OCAholic.
Antec ISK 110 90w Mini-ITX VESA Compatible Chassis on eTeknix.

Power Supply:
Enermax Digifanless 550 W PSU on HWInsights.
Efergy Engage Hub Solo Online Power Monitor on Tweaktown.

Cooling:
CRYORIG H5 Universal CPU Cooler on ThinkComputers.
DeepCool Captain 360 Liquid CPU Cooler on TechnologyX.
Fractal Design Kelvin S36 360mm Liquid Cooler on MadShrimps.
Cryorig R1 Ultimate CPU Cooler on BenchmarkReviews.
REEVEN Ouranos RC-1401 CPU Cooler on NikKTech.
Thermaltake Water 3.0 Ultimate CPU Cooler on HWSecrets.
BitFenix Spectre Pro LED Cooling Fan on APHNetworks.

Misc:
TRENDnet TEW-828DRU AC3200 Tri-Band Wireless Router on Tweaktown.
Gigabyte X99-UD4P on Bjorn3D.



OCAU has been involved in fundraising for Panda's Ear. Alexander (Xander/Panda) was born with Microtia and Atresia affecting his left ear. The aim of Panda's Ear is to raise money for reconstructive surgery to give Xander the best chance of hearing and having a positive future.

There have been various sales with proceeds going to the cause, and a long-running custom PC project nearing completion. You can find out more info here and find out how to donate here. They're still about $25k short of their goal.




Monday Morning Reviews (0 Comments) (link)
Sunday, 17-May-2015 15:49:49 (GMT +10) - by Agg


Motherboard & CPU:
MSI X99A Gaming 7 Motherboard on HWAsylum.
ASRock X99E-ITX/ac (Intel SKT 2011-3) on TechPowerUp.

Power Supply:
be quiet! Dark Power Pro 11 1200W on OCAholic.
COUGAR GX-1050 V3 1050W on NikKTech.
Efergy Elite Classic Whole Home Power Monitor on Tweaktown.

Video Cards:
XFX R9 280 Double Dissipation on TechnologyX.
ZOTAC GeForce GTX 970 AMP! Extreme Core Edition on Tweaktown.

Cases:
Fractal Design Define S Mid-Tower Enclosure on PCPerspective.
RAIDMAX Viper GX II Case on BenchmarkReviews.

Storage:
Inateck FD1005 Top-Loading HDD Docking Station on eTeknix.
ASUSTOR ADM 2.4 Overview on ComputingOnDemand.
Samsung Portable SSD T1 250GB USB 3.0 Drive on NikKTech.
Toshiba MQ02ABF075 2.5'' Mobile Thin HDD on MadShrimps.
Patriot Supersonic Rage 2 256GB USB 3.0 Flash Drive on APHNetworks.

Input Etc:
Turtle Beach Impact 700 Mechanical Keyboard on eTeknix.
ROCCAT TYON mouse on Vortez.
i-Rocks Golem Series K50E Scissor-Switch Gaming Keyboard on eTeknix.
Kingston HyperX FURY Pro Gaming Mouse Pad on LanOC.

Audio Visual:
Creative Sound Blaster ZxR on HotHardware.
ROCCAT Kave XTD 5.1 Analog Headset on Tweaktown.
LUXA2 Lavi L Bluetooth Headphones on ThinkComputers.
Tesoro Kuven Pro headset on HWHeaven.
Acer XB270HU 27-in 1440P 144Hz IPS G-Sync Monitor on PCPerspective.

Networking:
TP-LINK Archer C9 Wireless Dual Band Router on MadShrimps.
TP-LINK Archer C9 wireless router on HWHeaven.

Misc:
Video Perspective: AKracing (AK-6014) Ergonomic Gaming Chair on PCPerspective.
Intel NUC Kit NUC5i7RYH mini PC on LegitReviews.
Be Quiet! Pure Rock CPU Cooler on NikKTech.



Thanks to mpot and Tim this week!









































I don't normally link Kickstarter stuff, but this one from Chris has an interesting Australian tech focus. For far too long, Australia's political sector has gotten technology policy completely wrong. I'm mad as hell, and I'm not going to take this anymore. Let's take Delimiter into the Canberra Press Gallery and literally write the book on tech policy while we're there.

Meanwhile, it seems internet pricing may go up to cover the cost of the metadata retention scheme. Consumers are likely to face rising internet costs to meet a shortfall in the cost of implementing the government's metadata retention scheme. Reports indicate the government will contribute $131 million to the cost of the scheme, significantly less than the total estimated price tag. Any remaining costs of implementing the new laws - which require telcos and ISPs to keep data about their customers' phone and internet use for two years - will be covered by the industry, which could raise the price of its services to compensate.

Microsoft have provided more details about their new browser, Microsoft Edge. With Microsoft Edge, we want to fundamentally improve security over existing browsers and enable users to confidently experience the web from Windows. We have designed Microsoft Edge to defend users from increasingly sophisticated and prevalent attacks. This post covers some of the advanced technologies used to protect Microsoft Edge, including industry leading sandboxing, compiler, and memory management techniques developed in close partnership with Windows.

I didn't even know AOL was still going, but Verizon are going to buy it for $4.4B. By buying AOL, Verizon is getting much more than the 1990s dial-up Internet company that first introduced many Americans to the Web. Today AOL provides online video services, content and ads to 40,000 other publishers. It brings in $600 million in advertising. It has news sites such as The Huffington Post, TechCrunch and Engadget.

Moore's Law (which I still think shouldn't be called a law, but anyway) turns 50 this month. IHS said today that Moore's Law has generated a minimum of $3 trillion in incremental GDP and up to $11 trillion when including the indirect impact. At an event tonight, Gordon Moore is expected to highlight that without increasing funding for basic research and focus on STEM education advancements such as Moore's Law may not happen in the future, potentially hobbling economic growth and increases in living standards.




Friday Afternoon Reviews (0 Comments) (link)
Friday, 15-May-2015 04:25:32 (GMT +10) - by Agg


Motherboard & CPU:
ASUS X99-A USB 3.1 on OCAholic.
MSI Z97 Gaming 9 ACK (Intel Z97) Motherboard on Tweaktown.
ASUS X99 TUF SaberTooth on Guru3D.
GIGABYTE X99-Gaming 5P (Intel X99) on Tweaktown.
Core i7-5960X vs i7-5820K Gaming-Performance - FullHD, 1440p, UHD on OCAholic.
MSI Z97I Gaming AC Mini-ITX Motherboard on LegitReviews.

Storage:
LEXAR JumpDrive M10 & M20 on Vortez.
SanDisk CloudSpeed Eco SSD Review (960GB) on TheSSDReview.
Patriot Ignite M2 480 GB on LanOC.
OCZ Vector 180 480GB Solid State Drive on ThinkComputers.
Synology DiskStation DS2015xs on LegionHW.
Seagate Wireless 500GB Portable Storage Device on Tweaktown.
Samsung SM951 M.2 PCIe SSD Review (512GB) on TheSSDReview.

Portable & Prebuilt:
NewerTech Nuguard KX Kinetic Absorbing Galaxy S4 Case on Tweaktown.
Intel NUC5i7RYH With Iris Pro Graphics Mini-PC on HotHardware.
Shuttle Fanless Slim-PC DS57U on TechPowerUp.




Wednesday Morning (0 Comments) (link)
Wednesday, 13-May-2015 01:32:37 (GMT +10) - by Agg


Netflix have released their first monthly ISP Speed Index for Australia. The Netflix ISP Speed Index is a measure of prime time Netflix performance on a particular ISP and not a measure of overall performance for other services/data that may travel across the specific ISP network. Faster Netflix performance generally means better picture quality, quicker start times and fewer interruptions. Discussion here.

Techspot have a 14-way SSD Roundup. SSD technology grew stale after saturating the SATA 6Gb/s bus, bringing mostly minor improvements and making up for it with price cuts. With new PCIe and M.2 drives presenting an alternative for users seeking maximum performance it's time for a roundup. We'll cover a total of fourteen consumer-grade SSDs that use either the SATA, PCI Express or M.2 interface. As always, we'll be looking at price vs. performance to see where each product stands.

AI geeks in New Zealand are building an angry robot. What could possibly go wrong? Though it may seem aggressive, Touchpoint's robot won't come close to experiencing bona fide rage. Instead, the machine will have hundreds of millions of angry customer interactions uploaded to its database and the robot will be programmed to mimic and repeat these conversations.

Skype Translater is now easier to try out. Today, we're excited to announce that we're making it easier to obtain the Skype Translator preview by removing the sign-up requirement. Simply download the Skype Translator preview application from the Windows Store for your Windows 8.1 or Windows 10 preview PC or tablet – no waiting or sign-up needed – use it as soon as you download it!




Tuesday Night Reviews (0 Comments) (link)
Tuesday, 12-May-2015 13:42:48 (GMT +10) - by Agg


Cases:
In Win 707 Tower on HWAsylum.
In Win 904 on OCAHolic.
NCASE M1 on TechPowerUp.
Fractal Design Define R5 Dual Loop Water Cooling Build Log on Techgage.

Storage:
QNAP Turbo vNAS TVS-463 SMB NAS Appliance on Tweaktown.
Synology DiskStation DS415+ NAS on MadShrimps.

Cooling:
SilverStone Tundra TD02-E CPU Cooler on BenchmarkReviews.
Corsair Hydro Series H100i GTX and H80i GT Liquid CPU Cooler on PCPerspective.
be quiet! Shadow Rock LP CPU Cooler on LegitReviews.

Prebuilt & Portable:
CyberPowerPC Syber Vapor I prebuilt gaming PC on NeoSeeker.
Eurocom P5 Pro Review, Taking Devil's Canyon Mobile laptop on HotHardware.
Intel NUC5i7RYH SFF System on PCPerspective.

Misc:
Project CARS Benchmarked: Graphics & CPU Performance on TechSpot.
XTracGear Carbonic XXL Mousing Surface on APHNetworks.
Etekcity RoverBeats T3 Wireless Mobile Speaker on Tweaktown.
ASUS Sabertooth Z97 Mark S Limited Edition Motherboard on ThinkComputers.
Be Quiet! Dark Power Pro 11 - 850W PSU on Guru3D.



All original content copyright James Rolfe.
All rights reserved. No reproduction allowed without written permission.
Interested in advertising on OCAU? Contact us for info.
Recent Content

Silicon Power USB Gift Pack

Google Chromecast

MyGica ATV510B Enjoy TV

Thecus N5550

SiliconDust HDHomeRun Dual

Intel Haswell on MSI Z87 MPOWER

Corsair AX860i PSU