News Archives
Our news archive search is now powered by Google. You can search the main site or the guest-viewable forums. To search the entire forums, log in and use the forum search engine.

Search the main OCAU site with Google: Search OCAU Forums with Google:

View News : Last 7 Days, Last 14 Days, Last 30 Days.

View Monthly Archives.



Server Update and Misc Pics (14 Comments) (link)
Friday, 30-January-2015 08:38:29 (GMT +10) - by Agg


So. Sadly our file transfer is going agonisingly slowly. We now know why, but unfortunately can't do anything about it. Think of it as a final protest by the old server. I'm a bit afraid of giving ETAs now - there's not much we can do apart from watch the file trickle over, and as soon as we can, we'll have the forums back up and running.

But in the meantime... thanks to aftahours and kate this week!

Brisbane Meet! Tonight, from 5PM until late at O'Malleys in the Queen St Mall







OCAU Relocating (49 Comments) (link)
Thursday, 29-January-2015 04:25:34 (GMT +10) - by Agg


From about midnight tonight (AEDT) until probably mid-morning tomorrow, OCAU's forums will be unavailable as we make the move to our new hosting provider. We have done a lot of groundwork leading up to this but transferring the final snapshot over to the new server takes quite a long time.

You don't need to do anything on your side - we will update the DNS so over time you will automatically find yourself on the new server and once the data transfer is complete you will be able to browse and post again. Apologies for the inconvenience and see you all on the new host!




PC Parts Wanted - For a Good Cause (0 Comments) (link)
Thursday, 29-January-2015 00:15:54 (GMT +10) - by Agg


Over in the forums there's some fund-raising going on, to help a member's son get some surgery he needs. An impressive custom PC is being built and it needs a few extra bits, so if you have some of those bits and don't need them, consider donating them. Or you could just donate some money if you wanted to help out in another way. See the thread for more info!




Wednesday Afternoon (0 Comments) (link)
Wednesday, 28-January-2015 06:48:14 (GMT +10) - by Agg


There's a whole lotta patchin' goin' on, with a new Linux security issue, GHOST, thanks Skymaster. Qualys alerted the major Linux distributors about the security hole quickly and most have now released patches for it. Josh Bressers, manager of the Red Hat product security team said in an interview that, "Red Hat got word of this about a week ago. Updates to fix GHOST on Red Hat Enterprise Linux (RHEL) 5, 6, and 7 are now available via the Red Hat Network." Discussion here.

SAGE-AU has spoken out against the mandatory data retention scheme, not the least because of the additional burden on IT workers. The telcos have already warned the government that such a scheme will cost hundreds of millions of dollars to set up, and tens of millions each year to maintain. The legislation will not only have a financial impact on the telcos, it will also heavily impact the employees of the carriers, who will be responsible for setting up, operating, and maintaining the systems built for the mandatory data. These workers will also be responsible for responding to requests from law-enforcement agencies and deciding what requests to approve or reject.

If the idea of 3D printing has taken your fancy, check out this interesting article from someone with 16 whole hours experience, thanks mpot. I've been using this printer now for basically 16 total hours over a few days, so we'll call it two days. I went through a number of emotions over this last two days an learned a TON, some about the Printrbot Simple Metal specifically, but also about 3D Printing in general. Here's my 16 hours laid out for you, Dear Reader, so that you might save this time that was stolen from me. ;)

Tech Report say that some Samsung 840 EVO SSDs are still vulnerable to speed slowdowns. Last year, users discovered a problem with Samsung's 840 EVO SSD that caused dramatic slowdowns when reading older data. Samsung attributed the issue to an algorithmic error in the management routine that tracks the status of cells over time. A firmware fix and accompanying Performance Restoration utility were issued in October, and they seemed to do the trick. However, new evidence suggests that the problem persists.

Apple have reported their quarterly results - and they're pretty amazing. Apple Inc. surpassed even the most bullish Wall Street expectations for its holiday quarter with an improbable trifecta: selling more iPhones at higher prices—and earning more on each sale. The Cupertino, Calif., company said it sold 74.5 million iPhones in the quarter, 46% above a year earlier, while lifting the average selling price of the devices by $50 from the prior year. The total equates to more than 34,000 phones an hour, around the clock.




Wednesday Afternoon Reviews (0 Comments) (link)
Wednesday, 28-January-2015 05:20:22 (GMT +10) - by Agg


Motherboard & CPU:
ASUS Rampage V Extreme on OCClub.
MSI's X99S MPower on Tech Report.
Preliminary Tests Of Intel Sandy Bridge & Ivy Bridge vs. Broadwell on Phoronix.
ASUS Z97 SaberTooth Mark S on Guru3D.
AMD FX-8320E Performance On Linux on Phoronix.

Storage:
Lexar JumpDrive M20 Mobile 32GB OTG USB 3.0 Flash Drive on Tweaktown.
Thecus N4310 4-Bay NAS on eTeknix.
Kingston 64GB UHS-I U3 microSDXC on LegitReviews.
D-Link DNS-320L 2-Bay Cloud Network Storage Enclosure on PCPerspective.
Team Group M131 16GB Dual Flash Drive on eTeknix.
Addonics Pocket UDD25 USB 3.0 External Dock on Tweaktown.
Samsung Portable SSD T1 500GB on OCaholic.
Thecus N4560 4 Bay NAS on LanOC.

Cases:
In Win D-Frame Mini on TechPowerUp.
BitFenix Pandora Micro-ATX Chassis With ICON Display on eTeknix.
Thermaltake Core V21 Micro-ATX on BenchmarkReviews.

Portable & Prebuilt:
MSI GT80 Titan SL laptop with mech keyboard on HWHeaven.
Alienware Alpha Intel-Powered SFF Gaming PC: Consoles Beware on HotHardware.

Video Cards:
ZOTAC GeForce GTX 960 AMP! Edition on FutureLooks.
Asus GeForce GTX 960 Strix OC Edition on SilentPCReview.
NVIDIA GeForce GTX 960 Video Cards (ZOTAC and MSI) in SLI on Tweaktown.

Input Etc:
Inateck Wireless Bluetooth 3.0 Portable Keyboard on eTeknix.
Tesoro Gandiva H1L Laser Gaming Mouse on BigBruin.
Corsair Gaming Sabre Optical RGB Gaming Mouse on eTeknix.

Cooling:
Fractal Design Kelvin S24 Expandable AIO CPU Cooler on eTeknix.
Reeven Ouranos RC-1401 Heatsink on FrostyTech.
Phanteks PH-TC14S & Cryorig C1 CPU Coolers on SilentPCReview.
Noctua NH-D15 CPU Tower Air Cooler on MadShrimps.
Fractal Design Kelvin S36 AIO CPU Cooler on Tweaktown.
BeQuiet Pure Rock Heatsink on FrostyTech.
Fractal Design Kelvin T12 AIO CPU Cooler on Tweaktown.

Audio Visual:
Antec Mobile Products Sugarcube Bluetooth Speaker on ThinkComputers.
Kingston HyperX Cloud II headset on OCaholic.
Kingston HyperX Cloud II headset on Vortez.

Misc:
Crucial Ballistix Elite DDR4-2666 16GB Memory Kit on ThinkComputers.
iControl Networks Piper Smart Home Security System on NikKTech.
Internet of Things for DIY folks: littleBits Smart Home Kit on TechSpot.




Tuesday Evening (1 Comments) (link)
Tuesday, 27-January-2015 07:44:13 (GMT +10) - by Agg


Saints Row 4 for PS4 has been recalled in Australia. Unfortunately over the weekend, it has come to light that the PlayStation 4 retail release of Saints Row IV: Re-Elected has a serious manufacturing issue and a nationwide recall is now underway in Australia. A manufacturing issue has caused an incorrectly classified version of Saints Row IV: Re-Elected for our territory to be released. This strictly affects PlayStation 4 retail versions. Discussion here.

Tech Report have been talking to NVIDIA about GTX 970 memory issues, but apparently the cards are working as intended. This weekend, Nvidia admitted there are some quirks in the GeForce GTX 970's memory config. Those revelations touched off quite a bit of speculation and concern. To clear the air, Nvidia Senior VP of Hardware Engineering Jonah Alben spoke with us yesterday evening. Alben's primary message to us was straightforward. He said the GTX 970 is "working exactly as we designed it." More info on PC Perspective.

Neowin are the latest to share their hands-on experience with Microsoft HoloLens. I had to have the distance between my pupils measured so that HoloLens could be calibrated for my eyes, but Microsoft said that in the production models, the calibration is done automatically, so consumers won't have to worry about this in the future.

Sniper sent in this video which is a few years old now but still cool - some interesting gears made of wood. Clayton Boyer demonstrates a variety of square, oval, pentagonal, organic and other unbelievably-shaped gears--and they really work!

There's an Easter Egg of sorts inside the Google Chrome browser - a dinosaur game.




Facebook Down (1 Comments) (link)
Tuesday, 27-January-2015 06:59:20 (GMT +10) - by Agg


Yes, in case you're wondering, it seems that Facebook is down, along with Instagram and some other big sites - and have been for about 40 minutes. It's not entirely clear why, as yet. Discussion is going on in this thread.




Tuesday Morning Reviews (0 Comments) (link)
Monday, 26-January-2015 13:42:53 (GMT +10) - by Agg


Hope you had a great long weekend!

Audio Visual:
Asus STRIX DSP Gaming Headset on eTeknix.
Luxa2 GroovyW Bluetooth Speaker on TechnologyX.

Cases:
In Win D-Frame Mini Case on TechnologyX.
AZZA Z Mini-ITX Gaming Chassis on Tweaktown.
Lian Li PC-T80 Modular Test Bench Chassis on eTeknix.

Storage:
Plextor M6e Black Edition SSD 256GB on TheSSDReview.
Synology DiskStation DS215j 2-Bay NAS on eTeknix.
Plextor M6M 256GB mSATA SSD on Tweaktown.

Cooling:
Noctua NH-D9L CPU Heatsink on APHNetworks.
Cooler Master Nepton 240M AIO CPU Cooler on eTeknix.
Thermalright Macho Rev.B CPU Cooler on Tweaktown.

Input Etc:
CM Storm Quickfire Ultimate Mechanical Keyboard on eTeknix.
Speedlink Parthica Gaming Keyboard on eTeknix.
Gigabyte FORCE M63 FPS Laser Gaming Mouse on eTeknix.
CM Storm NovaTouch TKL keyboard on OCaholic.
Razer BlackWidow Chroma Mechanical Gaming Keyboard on NikKTech.

Portable & Prebuilt:
Supermicro 7048GR-TR (Intel C612) Workstation Tower System on Tweaktown.
ASUS ZenFone 6 Smartphone on HWHeaven.

Misc:
MSI Z97 GAMING 9 AC (Intel LGA 1150) motherboard on TechPowerUp.
Tenda AV1000 Gigabit Powerline Adapter on eTeknix.
Hands-on With Windows 10ís Preview Build 9926 on Techgage.



Well, it's that time of year again when Agg turns a little older, a little wiser, a little more shouty and pointy... and this year is an important one: the big 40!

Happy birthday, Aggster, hope you're having an awesome birthday weekend!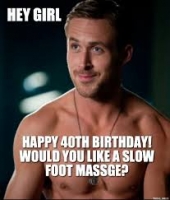 All original content copyright James Rolfe.
All rights reserved. No reproduction allowed without written permission.
Interested in advertising on OCAU? Contact us for info.
Recent Content

Silicon Power USB Gift Pack

Google Chromecast

MyGica ATV510B Enjoy TV

Thecus N5550

SiliconDust HDHomeRun Dual

Intel Haswell on MSI Z87 MPOWER

Corsair AX860i PSU